Dogs have long been regarded as among humankind's best and closest friends. Dogs provide the largest range of functions among domesticated animals, including friend, helper, protector, and lifesaver. Dogs have been people's best friends for generations since they are such amazing companions. The relationship between dogs and people is deep and old.
And as Dogs provide us with unconditional love and companionship, we also give them back the love that they also deserve. That's why if you see them get hurt you may feel the urge to cradle them tightly and of course do what it takes to comfort them, However, seeing someone who abuses a lovely dog is another level, and giving them a taste of their own medicine is somewhat truly deserves just like what the man from Brooklyn did.
Thanks to a rapper from Brooklyn, New York, who goes by the stage name Str8CashTWIST with his real name Tashawn Rodriguez he just gave the abused dog the justice he deserves,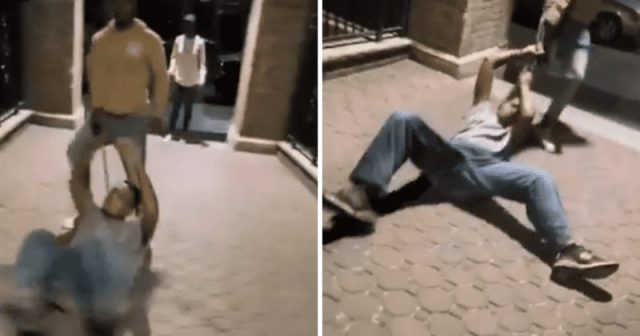 It was all begun when Rodrigues was walking down a city sidewalk when he saw a man pulling a dog "for three blocks against his will" while wearing a "choker chain" around his neck. In an attempt to teach the owner a lesson, Rodriguez put the dog's leash around the man's neck and violently yanked him the same way he was seen pulling the pitbull.
"When you drag a beautiful pitbull for three blocks against his will [and] walk past another fellow pitbull owner with no explanation …. KARMA!" Rodriguez posted to Twitter under the username @Str8CashTwist_ on Monday, alongside a video of the violent assault.
The man is seen on camera facing the camera while wearing a metal dog leash around his neck. The moment Rodriguez grabs the leash, he jerks it violently and quickly, knocking the man to the ground.
Then, as he continues to pull the chain, he stops to slap the man in the face before dragging him along on his back. Then, after dragging the man into the center of the street, he kicks him in the ribs before walking off.
Rodriguez can be heard shouting at the owner, "I got a dog, bro, Like f*****g dragging dogs?" he asks, while adding: "That's what you did!"
Although not everyone was a fan of the so-called justice, despite that the Video of the assault quickly amassed hundreds of thousands of views.
"Congratulations, you played yourself," says one critic.
The other man suggested there "was a better way to teach" Rodriguez a "lesson," despite the fact that they understood his rage, saying: "Instead of calling the police on him. You guys picked street justices. You guys just committed a criminal assault and posted [it] online. This is a real example of a hood [expletive]."
Tashawn Rodriguez submitted the second video in justification of his conduct, demonstrating the dog's state at the time he saw it on the street., alongside the 15-second clip that showed the animal's bloodied face. He said, "Anybody need reasoning for my actions … This [is] how he brought the dog to me, I know many of you may not be happy with how I handled it but nevertheless I handled it."
Rodriguez then set up a GoFundMe page in a bid to raise money for dog food and supplies.
"Hey guys, I started this fundraiser for food and supplies towards a dog I recently seen treated badly and defended," the page description reads.
Rodriguez describes the owner as being in "bad shape" and "out of work" and therefore unable to properly take care of the dog.
"We're around everyday doing check ups and making sure he's fed [and] walked (normally) daily," the rapper added.

"Below is a picture of him the following afternoon .. happy, tail wagging and waving. A fresh cow bone and new collar I bought for him," Rodriguez said alongside a snap of the pooch. "He's now being watched over like one of my own."