Brandyn Cox is a monster – pure and simple. In Evansville, Indiana he drove his truck five miles dragging a dog behind!
Hank, a Great Dane mix, was killed during the incident.
The police report said that the whole left side of Hank's body had been worn down to the bone.
While Cox was responsible for driving the truck, Jamie L. McFarland, 44, was the one who tied Hank to the truck. McFarland was found and arrested first.
Happily, Cox, 24, was later found and arrested too. Cox was finally stopped by another motorist who saw the dead dog and a trail of blood.
According to the INDYStar, Cox was in the Vanderburgh County jail, and his bond was set at $10,000.
Cox was charged with two counts of aiding, inducing or causing the torture or mutilation of an animal, one count of inducing or causing the killing of a domestic animal – which are felonies.
Take a look at this man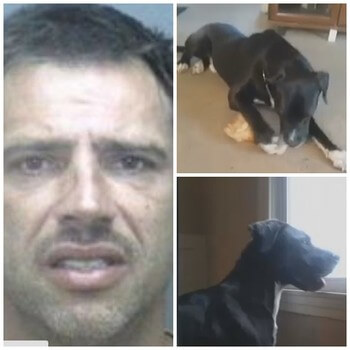 He also got slapped with a single count of animal cruelty. Then there were two charges unrelated to animal cruelty.
Apparently, a witness tried to stop Cox from leaving the scene.
Cox was charged with intimidation and tried to interfere with the reporting of the crime.
As if this story wasn't bad enough, it turns out that Hank had belonged to someone living at McFarland's home who had left just the day before because of a death in his family.
Share away, people.